"Mamba Day". This is the name given by the city of Los Angeles to the day which pays tribute to the exceptional career of Kobe Bryant. Established in 2016, it takes place every August 24 (24/8), the day after the birthday of what many consider to be the greatest player in the history of the Lakers, who died on January 26, 2020 in an accident. helicopter with eight other people, including his daughter Gianna.
To pay tribute to the "Black Mamba", back in figures on an exceptional career, started in November 1996. He was just 18 years old.
1 regular season MVP title. It was in 2008 and that may not seem like much given a 20-year career.
2 Finals MVP titles won in 2009 and 2010.
3 gold medals won with Team USA. One in 2007 at the Americas Championship, then two at the Beijing Olympics in 2008 and then in 2012 in London.
4 times MVP of the All-Star Game. An NBA record he shares with Bob Pettit.
5 NBA champion titles including a "three peat" in 2000, 2001 and 2002 then a "back-to-back" in 2009 and 2010. In history, there are only 26 players to have won at least as many rings in course of their career.
9 All-Defensive First Team selections. While he's been selected 12 times in all in one of the two fives, his 9 selections in the best defensive five represent a record he shares with Michael Jordan, Gary Payton and Kevin Garnett. In 1999/00, he became the youngest player to receive this honour.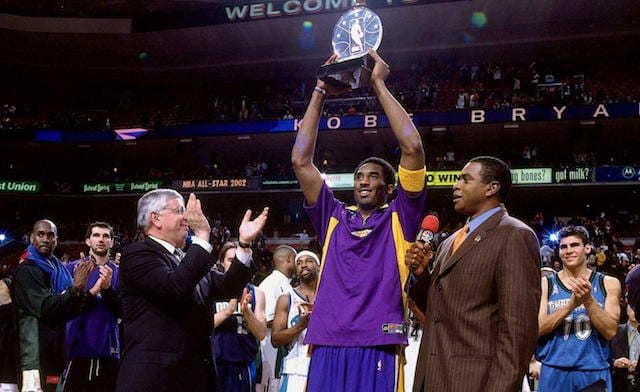 18 straight All-Star Game selections
11 selections in the All-NBA First Team, it is two less than LeBron James who holds the absolute record.
12 3-point shots scored in a single game. It was January 7, 2003, against Seattle and it was an NBA record that he shared with Donyell Marshall for a long time, before Stephen Curry and then Klay Thompson seized it.
15 selections to one of three All-NBA Teams. If he was elected 11 times in the first, he was also elected twice in the second and twice in the third, bringing his total to 15. Two less than LeBron James, who now has the absolute record with 18 .
17 player of the month titles to which we could also add 33 of player of the week although neither are records.
18 consecutive selections in the All-Star Game and there, on the other hand, it is a record tied with LeBron James, just like his 15 ASG started in the five major (once a substitute and twice injured). On the other hand, he fails only a small selection of the total record of Kareem Abdul-Jabbar, called 19 times in his career to participate in the all-star game.
18 and 158is the age in years and days that Kobe Bryant was when he first started and to this day, he is still the youngest starter in history.
18 and 16911 days later, he also became the youngest player to win the Slam Dunk Contest and again, the record still stands.
19 and 169the following year, he became and still remains the youngest player to start an All-Star Game.
25.0 his career points per game average, the 13th best in history.
Nine games in a row at 40 points or more in February 2003
20 years spent in the NBA and above all, 20 years spent at the Lakers. In 2016, no player in history had played so many seasons in a single franchise. Dirk Nowitzki has since surpassed him with 21 seasons in the Mavericks jersey, and Udonis Haslem will match him this season.
35.4 points per game, such is the average of Kobe Bryant during the 2005-2006 season where he will also win the first of his two league leading scorer titles. Obviously, this is his best career mark and the 9th in history.
40. Between February 6 and 23, 2003, Kobe Bryant achieved the feat of stringing together 9 matches in a row with at least 40 points on the clock! With the exception of Michael Jordan (9 times also in 1986-87), only Wilt Chamberlain had done better with series of 14 matches during the 1961-62 season, then 10 matches in 1962-63. Over this period, Kobe Bryant had averaged 44 points!
50 points (or more) on a match, it's already exceptional, but on 4 consecutive matches, it's downright unreal. However, this is what Kobe Bryant achieved in March 2007. After his 65 points against Portland, he went on to 50 against Minnesota, then 60 against Memphis and finally 50 against the Hornets (an average of 56.3 pts!). In history, only Wilt Chamberlain (four times) has done better.
60 points. It is the record of points achieved by a player for his last career game, and it is the property of Kobe Bryant since April 13, 2016. In a surreal atmosphere, and after a mediocre season, the rear of the Lakers ignites a last time the Staples Center against Jazz players on vacation.
62. This is the total points scored by Kobe Bryant against Dallas on December 20, 2005. The feat? The rear of the Lakers had reached this total in just three quarters (33 minutes)! On his own, he had scored one point more than all of the Mavs! But that was nothing compared to what he would achieve next a month later…
81. On January 22, Kobe does the unthinkable. Against Toronto, he becomes the second player in history to score more than 80 points in a game. With his 28 of 46 shooting, he finished with 81 points, simply the second best performance in history behind Wilt Chamberlain's 100 points.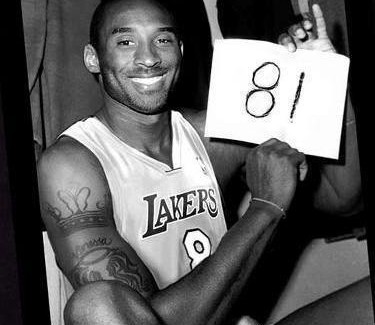 The Christmas points record holder
122. This is the number of times Kobe Bryant has scored 40 or more points during his career. Only Michael Jordan (173) and Wilt Chamberlain (271) did better. Note that of these 122 matches, he finished 27 with at least 50 points and 6 with at least 60.
395. This is the total number of points scored by Kobe Bryant during "Christmas Day" and it was a record for these games played at Christmas and emblematic in the NBA. LeBron James passed him in 2021 with a combined 422 points.
1,346 regular season matches played, the 15th total in history.
4,010 balloons lost, only the Jazz duo, Karl Malone (4,524) and John Stockton (4,244), lost more.
4,499 shots attempted in the playoffs, that's only two more than Michael Jordan and that makes Kobe the "all-time" runner-up in the category, behind LeBron James. He is also LeBron James' runner-up for the most missed shots with 2,485.
5,640 points scored in the playoffs, it is the 4th best mark behind the usual LeBron James (7,631 points), Michael Jordan (5,987) and Kareem Abdul-Jabbar (5,762). Recall that Kobe Bryant took part in 15 playoff campaigns.
8,378the number of free throws made by Kobe Bryant (out of 10,011 attempts) is the third best total in history.
8,641 minutes is the time Kobe Bryant has spent on the court in the playoffs and is the 4th best total behind LeBron James (11,035), Tim Duncan (9,370) and Kareem Abdul-Jabbar (8,851).
14,481. Inevitably, to score as much as Kobe Bryant did, you have to take a lot of shots and in the heap, there are some that you miss. In this case for the "Black Mamba", this figure is 14,481! He is the player in history who has missed the most career shots.
33,583. Kobe is the 4th leading scorer in history behind Kareem Abdul-Jabbar, Karl Malone and LeBron James. The latter overtook Kobe on January 25, 2020, the day before the tragic helicopter crash.
48,637 minutes played, the 7th highest total in history.