Sicavonline is diversifying its offer even further to adapt to the requirements of savers who are increasingly concerned about the environment. The insurance brokerage firm now offers responsible ETF-led management via its 100% online KOMPOZ life insurance contract to make it easier for you to invest responsibly.
What is a responsible ETF?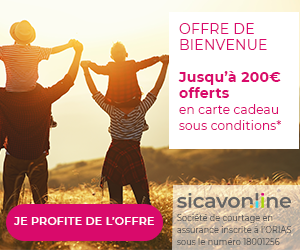 ETFs*, or Exchange-Traded Funds, are funds traded on the stock exchange replicating the variation of an index or an asset class that you can buy and sell as simply as shares during market opening hours. Exchange on which they are listed.
Responsible ETFs are increasingly popular financial products for investors who want to put their money in sustainable funds. They make it possible to make Socially Responsible Investment (SRI) via ETFs that integrate ESG criteria, namely Environmental, Social and Governance criteria.
What are the growth prospects for responsible investments?
According to an IFOP survey, 6 out of 10 French people consider that the investment opportunities offering to support projects that have a real impact on the environment are interesting. The most important aspect for these investors seems to be the fight against pollution (76% of the French).
According to Morningstar research, the pace of growth in responsible investing around the world has been very dynamic, especially since 2020, and is expected to continue to grow. The investment volumes show just how much investor enthusiasm for responsible investing is growing, as "sustainable fund assets grew 9% to $2.74 trillion by year-end. year 2021".
What is Sicavonline's responsible ETF management?
There are several ways to invest in responsible ETFs. Sicavonline offers to do so via the units of account (UC)** of its KOMPOZ life insurance policy in ETF-managed management from a payment of €1,500 and management fees from 0.95% in case of setting up scheduled payments. The life insurance envelope allows you to save and invest via a multitude of unit-linked media while benefiting from tax advantages.
In collaboration with the fintech Active Asset Allocation (AAA), Sicavonline presents an ETF-driven management life insurance so that investors do not need to deal with the management of the assets in which they invest. Investment, arbitrage and fund distribution decisions are made by professionals based on the client's investor profile and the level of risk they are willing to take.
There are 3 investor profiles at Sicavonline:
A defensive profile for those who only want to take little risk (maximum risk/return of 3) with the objective of moderate annual returns and a recommended minimum investment period of 3 years;
A balanced profile for those willing to take moderate risks to grow their capital (maximum risk/return of 5) with the objective of average annual returns and a recommended minimum investment period of 3 to 5 years;
A attacking profile for those willing to take significant risks to actively enhance their capital (maximum risk/return of 7) with the objective of high annual returns and a recommended minimum investment period of more than 5 years.

Source: Sicavonline
Why use the responsible ETF managed management arbitration mandate via the KOMPOZ life insurance contract?
KOMPOZ is the online life insurance contract of the insurer Ageas France distributed by Sicavonline which allows savers to benefit from a flexible financial solution adapted to their needs.
The marketing and management (subscription, free payment, arbitration) of this ETF-managed life insurance contract, which allows investors to invest their money in ETFs that incorporate responsible criteria, is done entirely in a dematerialized manner.
The ETFs available come from four reputable management organizations that are committed to making ethical investments in their clients' portfolios: BNP Paribas Asset Management, Invesco, iShares by BlackRock and Amundi.
This contract is a turnkey solution for investors wishing to delegate the management of their savings. It also makes it possible to take advantage of know-how that makes it possible to benefit from optimal asset allocation between ETFs according to market trends.
Taking extra-financial criteria into account also allows you to make committed investments and support funds that can create value over the long term with more sustainable and responsible business models.

*Funds whose objective is to replicate the variations of an index up and down and which presents a risk of capital loss.
**As unit-linked supports present a risk of capital loss, the insurer only commits to the number of units of account and not to their value, which may fluctuate upwards or downwards depending on the evolution of financial markets.
INADVERTISING TRAINING WITHOUT CONTRACTUAL VALUE
SICAVONLINE, public limited company with capital of €10,000,008. RCS Nanterre 423 973 494.
Head office: Village 5 – 50 place de l'Ellipse, CS 50053, 92985 PARIS LA DÉFENSE CEDEX. Such. : 01 70 08 08 08.
Investment Services Provider approved by the Prudential Control and Resolution Authority under number 19 253 CE.
Insurance brokerage company and intermediary in banking operations and payment services, registered with ORIAS under number 18001256.
Active Asset Allocation is a digital financial engineering company, renowned for its investment algorithms.
Its mission is to give each institution and individual the means to achieve their financial goals.
COANDA, AAA's savings marketplace, offers digital tools that meet the specific needs as well as the communication needs around the life insurance products of CGPs, insurers, management companies and beneficiaries.
Active Asset Allocation is registered in France with ORIAS under number 13000765 and is a member of ANACOFI-CIF, an association approved by the Autorité des Marchés Financiers (AMF).
More information on active-asset-allocation.com
KOMPOZ is a collective life insurance policy insured by Ageas France and marketed by Sicavonline, as an insurance broker, registered with ORIAS under number 18001256, www.orias.fr.
The subscriber of the KOMPOZ contract is the Personaliz Epargne Digitale association, become a member of the association and join the KOMPOZ contract.
Ageas France, limited liability life insurance company.
Company governed by the Insurance Code, approved by the Prudential Supervisory Authority, with capital of €159,221,273.61.
Registered in the Nanterre Trade and Companies Register at number 352 191 167, whose registered office is located at Village 5 – 50 place de L'Ellipse – CS 30024 – 92985 Paris La Défense Cedex
sponsored article
Image source: Getty Images
All of our information is, by nature, generic. They do not take into account your personal situation and do not in any way constitute personalized recommendations with a view to carrying out transactions and cannot be assimilated to a financial investment advice service, nor to any incentive to buy or sell instruments. financial. The reader is solely responsible for the use of the information provided, without any recourse against the publishing company of Cafedelabourse.com being possible. The responsibility of the publisher of Cafedelabourse.com can in no way be held liable in the event of error, omission or inappropriate investment.