This second part of our survey conducted in partnership with Stellar, a reference platform in the management and analysis of influence campaigns, focuses more particularly on the channels used, the formats deployed, collaborations with influencers and major trends. of the sector. This survey was conducted with more than 400 respondents.
Download the full study
Find the first part of our survey conducted in partnership with Stellar:
The most used social networks and formats
Instagram, Facebook and TikTok popular
Marketing and communication professionals are adapting to the uses of social network users, and will logically seek out their audience where it is. The most used networks are Instagram (used by 81.5% of respondents), Facebook (36.5%) and TikTok (32%).
YouTube (29%) is also present, followed by LinkedIn (22%) and the influencer's website or blog (11.5%). This "historical" channel is therefore still part of the options of influencers for their campaigns. Twitter (10%), Twitch (2%), Pinterest (1.5%) and Snapchat (0.5%) bring up the rear.
Despite large audiences, the latter offer formats that are more complex to understand and set up.
Importance of photos and short videos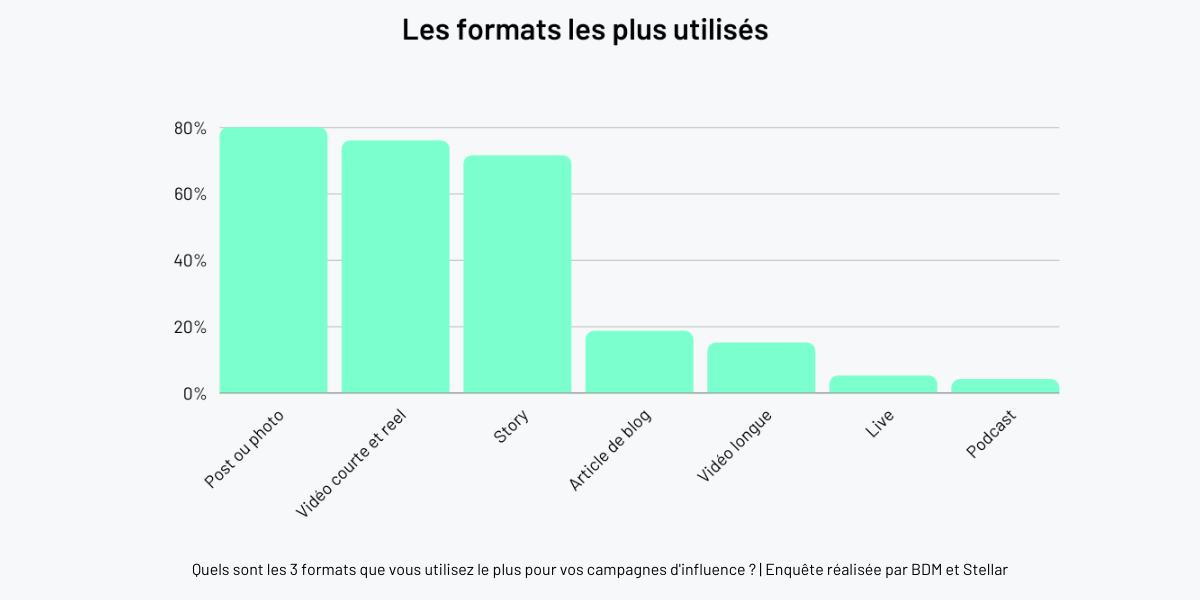 In terms of formats, posts or photos (80%) are the first format used, followed very closely by short videos and Reels (76%), as well as stories (71.5%). Blog posts are used by 18.5% of respondents and long videos by only 15%. Live, the results of which may not yet be there, is only used by 4% of respondents. The podcast, a "fashionable" format, is used by only 4% of respondents.
Profiles of influencers chosen by brands and agencies
Micro and nano influencers rather than mega influencers
There is a very strong diversity of influencer profiles that can be activated by brands. Advertisers and agencies mainly turn to micro influencers (more than 10,000 followers). They are indeed 34.5% to mainly collaborate with them, 31.5% to mainly collaborate with nano influencers (less than 10,000 followers) and 21.5% to collaborate with macro influencers (more than 100,000 followers) . Only 1.5% of respondents use mega influencers and their community of more than 1 million followers. We also note the importance of brand advocates (employees or clients) in influence strategies: 11% of respondents mainly call on them for their campaigns.
Audience profile and creativity rather than number of followers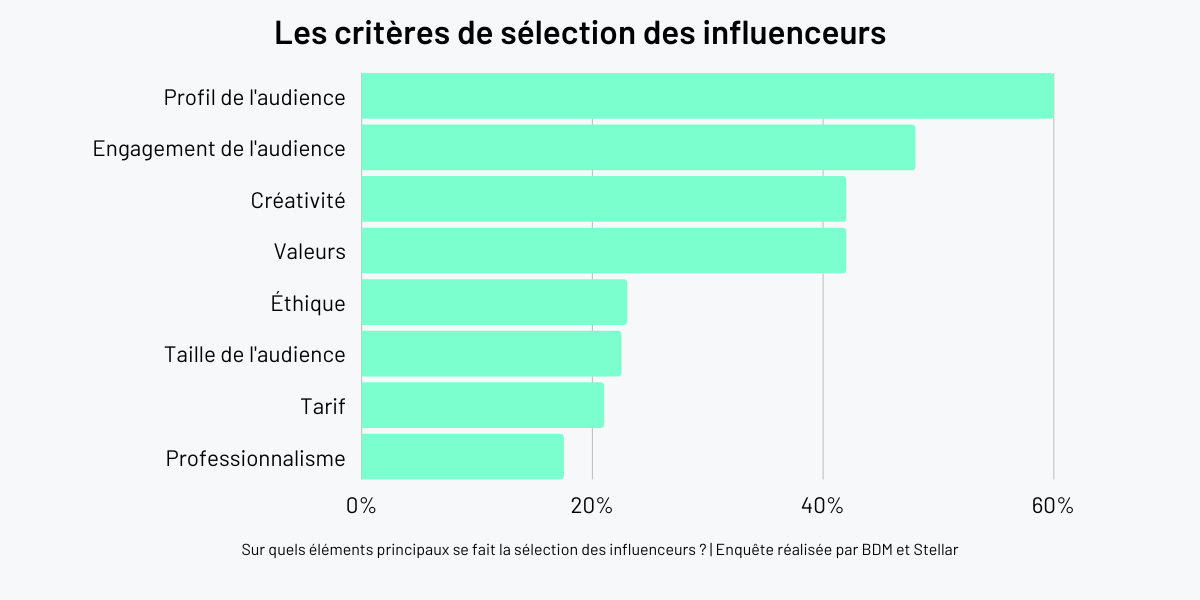 We also asked respondents to our survey what main elements they base on when selecting influencers with whom they plan to work. The profile of the audience (60% of respondents) comes first, followed by audience engagement (48%), creativity (42%) and values ​​(42%). Ethics (23%), audience size (22.5%) and price (21%) come next. Professionalism and compliance with regulations is a criterion that seems increasingly important and is cited by only 17.5% of respondents. This figure shows an evolution of mentalities on the part of brands on this subject.
Nature of collaborations, satisfactions and difficulties
Product placement remains the main collaboration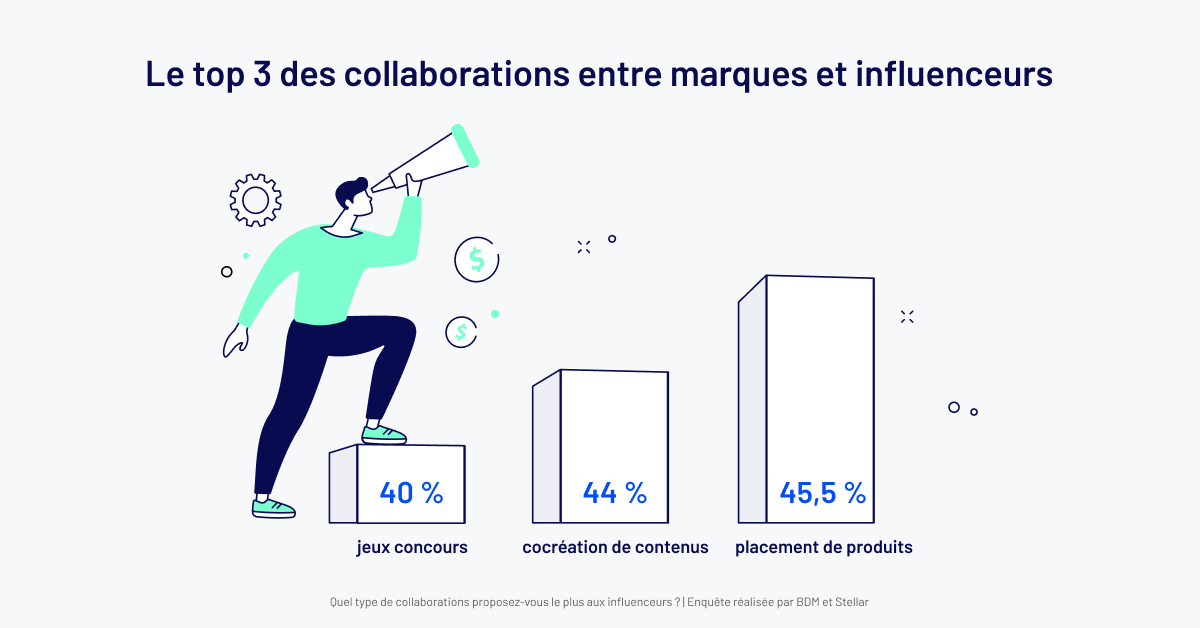 In terms of collaborations, the most used type of campaign remains product placement (45.5% of respondents), followed by content co-creation (44%), and contests (40%). This important place for co-creation shows that brands and agencies have understood that good campaigns rely on the creativity of content creators.
Sending products or seeding (38.5%) is also a type of campaign of choice, as are events (33.5%). CSR campaigns are used by 12.5% ​​of respondents, challenges by 12% and lives by 6.5%. Product co-creation represents only 4% of collaborations, as does gaming and gamification.
Collaborations that work well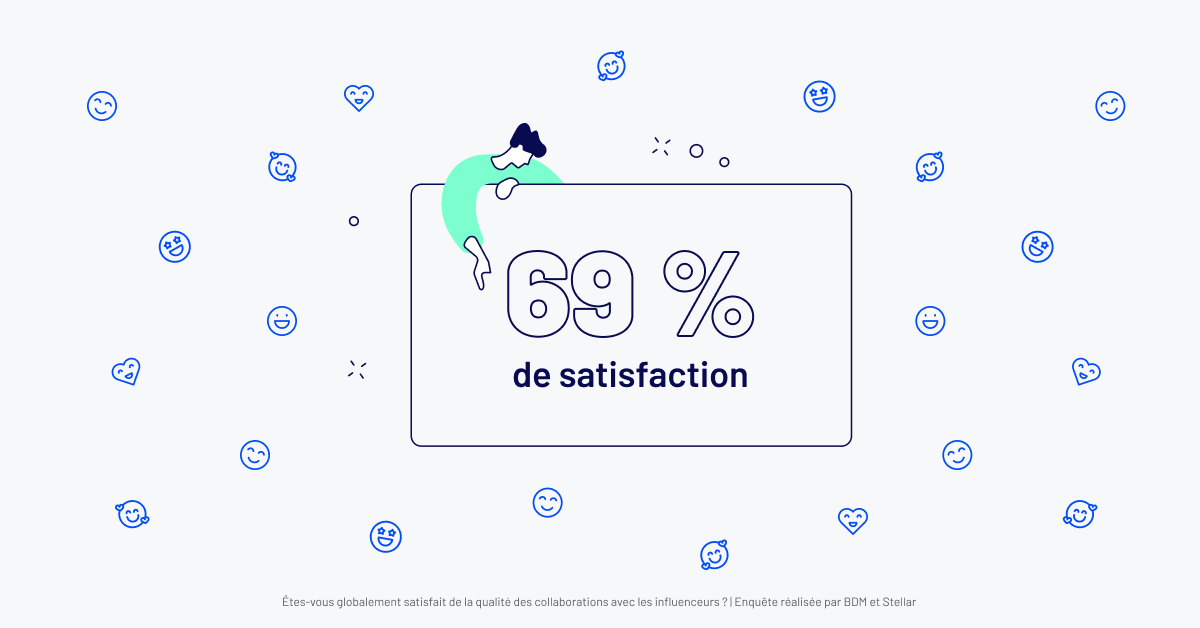 The professionals we interviewed give a positive assessment of their collaborations with influencers (exchanges, respect of commitments, quality of content, etc.). They are indeed 69% to be satisfied or rather satisfied with these collaborations. Dissatisfaction is rare: 7.5% of respondents are somewhat dissatisfied or very dissatisfied.
Difficulties in measuring ROI
If the collaborations are deemed satisfactory, some difficulties nevertheless persist. The main one is the measurement of campaign performance and ROI (44% of respondents), followed by the search for influencers (42%) and the analysis of influencer profiles and content (33%), as well as the difficulty of convincing its hierarchy of interest in this channel. Difficulties in determining prices is a difficulty for 32.5% of respondents, and the management of collaboration (brief, contract, shipment of products, etc.) is a problem for 27.5% of them.
Tools to have reliable data and find the right profiles
Despite the difficulties of measurement and management, the manual management of campaigns remains the majority. Only 30.5% of respondents use a dedicated tool. 44.5% do not use a tool. Notable fact: 25% of respondents do not use a tool, but plan to equip themselves. Probably because the sector is becoming more and more mature, and professionals need effective tools to manage their campaigns, but also to gain in productivity and analytical capacity.
Among those who use tools, the choice to equip themselves is guided by the importance of having reliable data on influencers (55%), finding the right profiles (55%), generating reports (49.5% ), manage a campaign from A to Z (39.5%), manage their budget (18%), and finally to communicate with influencers (14%).
Influence: an effective marketing channel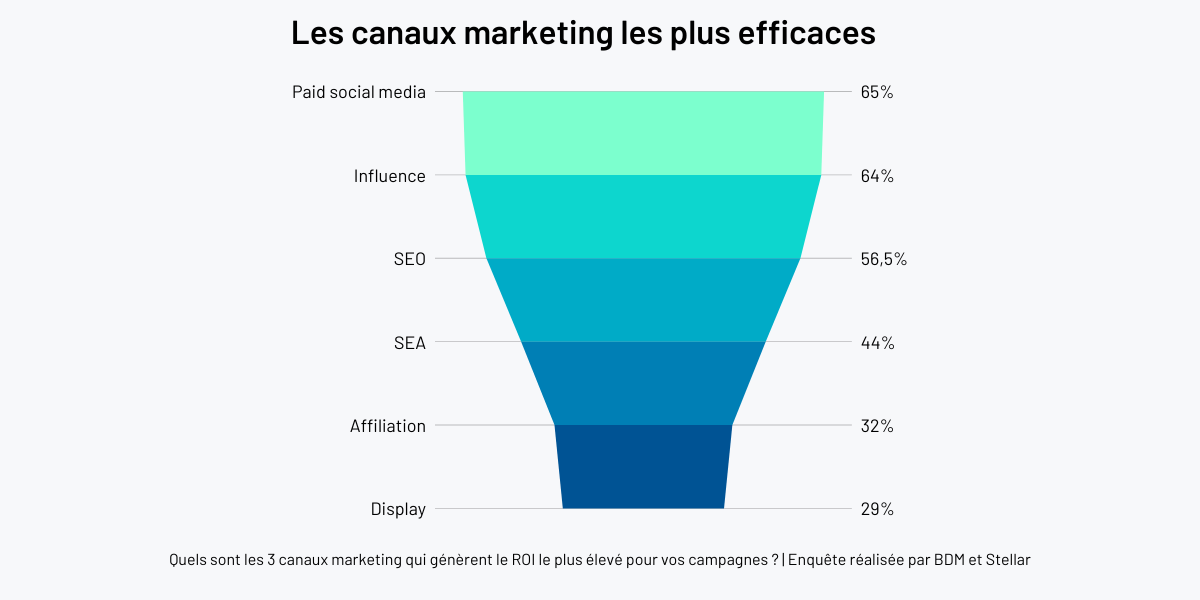 We asked our respondents to rank the marketing channels that generate the best ROI. Influence is particularly mentioned (cited by 64% of respondents), just behind paid social media (65%). This is followed by SEO (56.5%), SEA (44%) then affiliation (32%) and display (29%).
Major industry trends
This survey provides an excellent overview of influencer marketing practices in France in 2022. But we also wanted to know how professionals envisage the future, and what trends they see emerging for the next two years.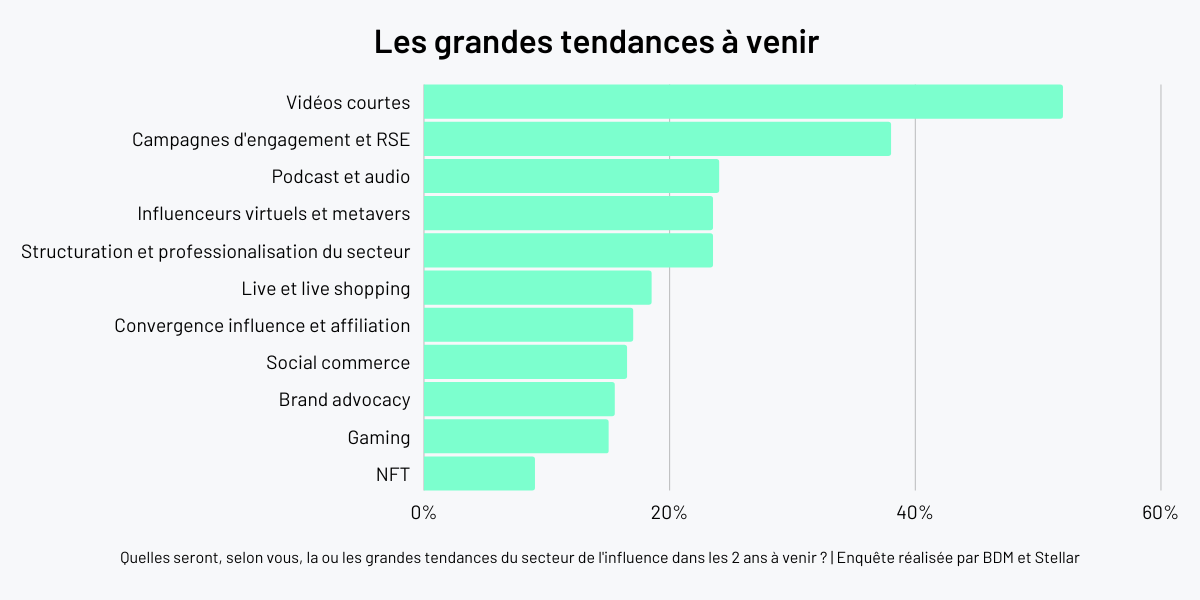 The phenomenon of short videos (TikTok, Reels, Shorts, etc.) is cited by 52% of respondents. We were surprised by the second trend: engagement and CSR campaigns (38%). Podcast and audio, although little used, are also seen as a key trend (24%). This is followed by virtual influencers, deepfakes and the metaverse (23.5%), the structuring and professionalization of influence (23.5%), live and live shopping (18.5%), the convergence of influence and affiliation (17%), social commerce (16.5%) and brand advocacy (15.5%). Gaming is cited by 15% of respondents, and NFTs by 9%.
Download the full study
Methodology: survey conducted online by BDM, from August 30 to September 30
2022, with 401 influencer professionals.