HelloWork (of which BDM is a part) is the leading French private player in employment, recruitment and training in France. The company has more than 430 employees and has 30,000 professional customers and 5.7 million monthly visitors. The HelloWork marketing team recently equipped itself with the Dexem solution to set up call tracking in order to be able to monitor the impact of the various campaigns in place. Overview of the advantages of the solution.
Try Dexem for free
A major challenge: successfully tracking incoming calls
HelloWork's B2B marketing team works on key business issues, such as lead generation and demand generation. The teams make sure to address a target of recruiters or recruitment professionals, and to generate the maximum number of requests, which are then converted into clients. This involves marketing campaigns on different channels: Google Ads, LinkedIn Ads, emailing, SEO, etc.
Before implementing Dexem, there was no tracking of incoming calls from our web media, which posed a real problem in tracking our marketing campaigns, explains Bryan Guerin, B2B acquisition manager at HelloWork.
The choice to implement Dexem as a call tracking solution provides a complete and encrypted view of incoming calls from the various contact points, and in particular its website. Without tracking, it is impossible to know where a prospect is coming from who calls the HelloWork sales teams. Now all phone numbers on HelloWork web media are dynamically generated via Dexem and all incoming calls are tracked.
HelloWork's marketing teams can analyze the origin of all B2B calls, just as we would do to analyze web traffic monitoring: campaigns, media, traffic sources… As soon as HelloWork receives a call from a configured tracking number on the Dexem platform, call data goes back to Google Analytics in the form of events. This made it possible to manage the various campaigns and optimize them according to performance. Campaigns that generate the most incoming calls (and the most qualitative calls) are to be preferred. Those that are not effective are stopped and investments are reallocated to other campaigns.
Measure conversions to make the right decisions
A large volume of incoming calls was not yet tracked, which could create an erroneous view of campaign performance:
One of our acquisition campaigns had a very high CPA. It could then be tempting to cut it off, and we had little view on the quality of the leads generated. After implementing Dexem, we were able to determine that 50% of conversions from this campaign were inbound calls. Mechanically, the CPA has been halved, and the conversion rate multiplied by two, and this campaign has become a common thread campaign, continues Bryan Guerin.
Dexem Call Tracking offers the possibility of obtaining a better view of the actions in progress and their results, and therefore of being able to make better decisions to steer the acquisition strategy. In a very concrete way, it allows daily to:
Manage campaigns with specific KPIs
Evaluate conversions
Measure the number of calls received, the number of callers, the rate of calls answered, etc.
View call distribution by hour and day
Generate more leads by reallocating budgets to other campaigns
Marketing teams also have a much more precise view of the lead's journey: landing pages visited, pages viewed before calls, etc.
Try Dexem for free
Ease of integration and use
Setting up incoming call tracking can seem technically complex. But this is not the case with Dexem, which indeed integrates very simply with the tools that HelloWork already uses (website, Google Analytics, Google Ads, marketing automation tools, CRM). Tracked numbers are generated by Dexem, then calls received on these tracking numbers are redirected to the HelloWork sales team number. There is therefore no heavy technical implementation to be made, nor modification of the existing telephony.
Dexem very quickly became essential because it is essential to monitor incoming calls in a B2B sector and to be able to measure performance.
The configuration of tracked numbers is done in a few clicks from the Dexem interface. Just enter a campaign name, callsign, and forwarding number, and that's it. In a few minutes, it is therefore possible to assign a tracking number created specifically for each channel. Dexem also makes it possible, thanks to dynamic call tracking, to replace the HelloWork sales team number, normally displayed on the site, with a tracked number, depending on the visitor's traffic source.
The solution then easily integrates with Google Analytics and Google Ads, but also with CRM tools like Salesforce or HubSpot. Another strong point of the solution: all the numbers offered are verified telephone numbers, and are therefore valid and without parasitic calls (spam, previous use by other companies, etc.).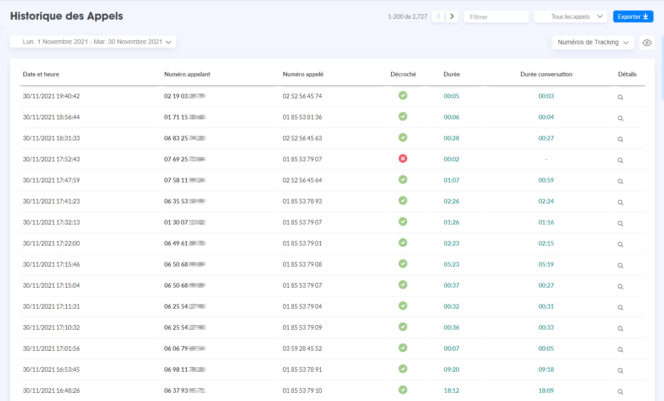 Very complete, Dexem also allows advanced management of calls received, which all go back to a dedicated dashboard: call history, recording of conversations, alerts in the event of missed calls… This call history is also an important point: no call is missed and therefore no leads are lost to HelloWork, regardless of the circumstances.
If Dexem was the solution chosen by the HelloWork teams, it is also for its simplicity. Very well thought out, the interface is easy to use and immediately adapts to the B2B issues of each brand. If the measurement of your incoming calls is a marketing issue for you, we can only advise you to try the solution for free.
Try Dexem for free